Insiders' Series – Collaborating with Hong Kong Corporates
September 9, 2021 @ 15:00

-

17:00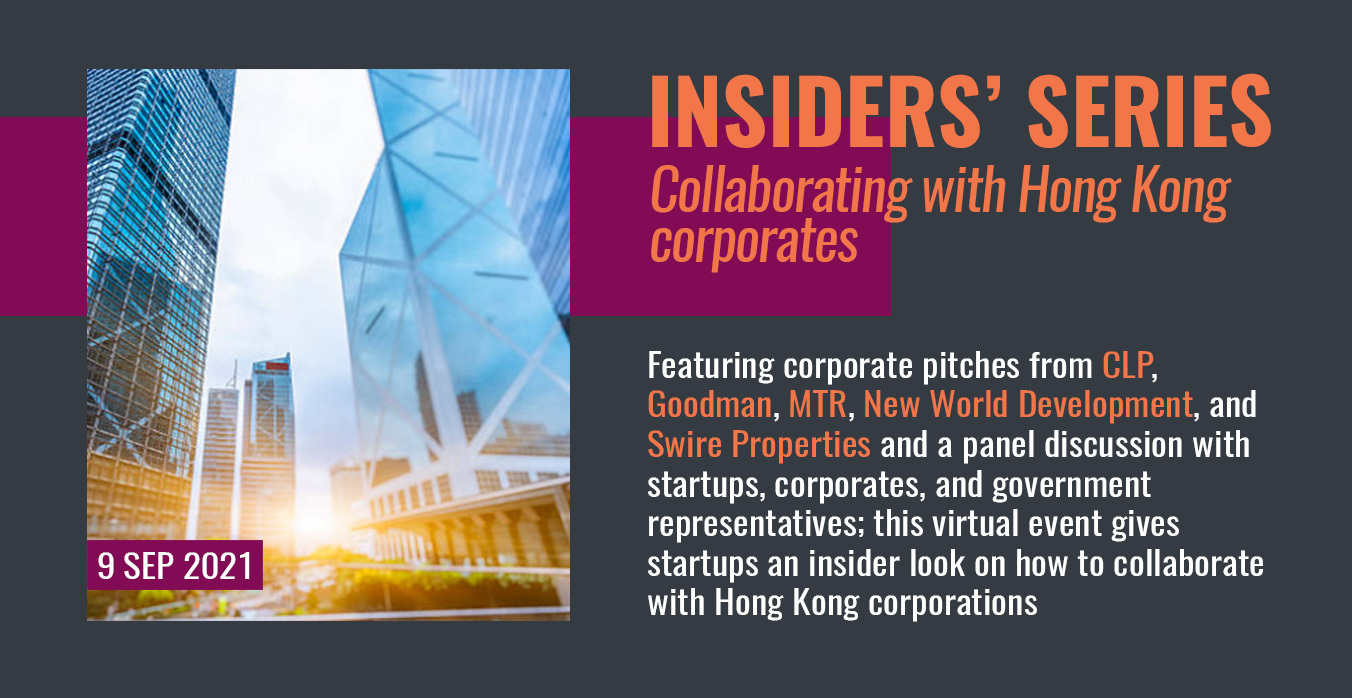 In the second edition of our Insiders' Series, a series where industry executives and subject matter experts share their insider's perspective on a specific topic, we will be covering the topic of collaborating with Hong Kong corporates!
Our event opens and closes with two distinguished guests: John Tsang, former Financial Secretary of Hong Kong SAR, and Peter Yan, CEO of Cyberport.
We will welcome 5 industry leaders who will share what kind of technology they are looking for, their problem statements and how a startup can work with them:
Serena Pau, Head of Product Management, Innovation Hub CLP
Anthony Liu, Head of Technology and Innovation, Asia, Goodman
Gene Soo, Head of Ecosystem, MTR
Anita Chan, Project Manager, Eureka Nova, New World Group
Jacqueline Wong, New Ventures Business Development Manager, Swire Properties
After these corporate pitches, startups will have the opportunity to share their contact information with the speakers to see if there is any synergy.
We will conclude with an insightful panel discussion between startups, corporates, and government bodies. The panelists will share their experience on fruitful startup and corporate collaborations and helpful resources available for anyone looking to get into Hong Kong and the Greater Bay Area.
Panelists include:
Marcus Leung-Shea, Head of Product, Innovation Hub CLP
Samuel Chan, Co-Founder and CEO, Descamps
Anthony Liu, Head of Technology and Innovation, Asia, Goodman
Jayne Chan, Head, StartmeupHK, InvestHK
Gene Soo, Head of Ecosystem, MTR
Sophiya Chiang, Head of Product and Technology, Rice Robotics
(Moderator) Eric Chan, Chief Public Mission Officer, Cyberport
This is a must-attend event if you are in clean tech, energy, industry 4.0, infrastructure and utilities, IoT, material science, mobility, automation and robotics, sensors, and smart city.
CLP is one of the largest investor-owned power companies in Asia Pacific. Goodman is a global industrial property group. MTR is one of the world's leading railway operators. New World Development's ecosystem includes property, infrastructure and insurance, department stores, and hotels. Swire Properties develops and manages world-class commercial, retail, hotels and residential properties.
A recording of the event will be made available to SuperMatter members for those who are in different time zones.
Venue Sponsor:
Marketing Partners: